Congratulations! You were chosen as one of the Friday Five at Heart 2 Heart Challenges!"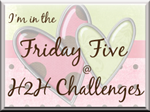 Thank you ladies! What an honor and what a treat to receive this evening :)
This is the card that I was selected for... [see the original post
here
]



Here I am working away on details for our National Scrapbook Day crop (just one day left to go) and I receive a super snazzy email..."